Bulletin Board > Group Activities

Posted: Wed, 08 Nov 2017 at 09:41 PST
Last Modified: Wed, 08 Nov 2017 at 09:41 PST

TUE NOV 14 - TANTRA SPEED DATE! (Santa Cruz / Coastside)
---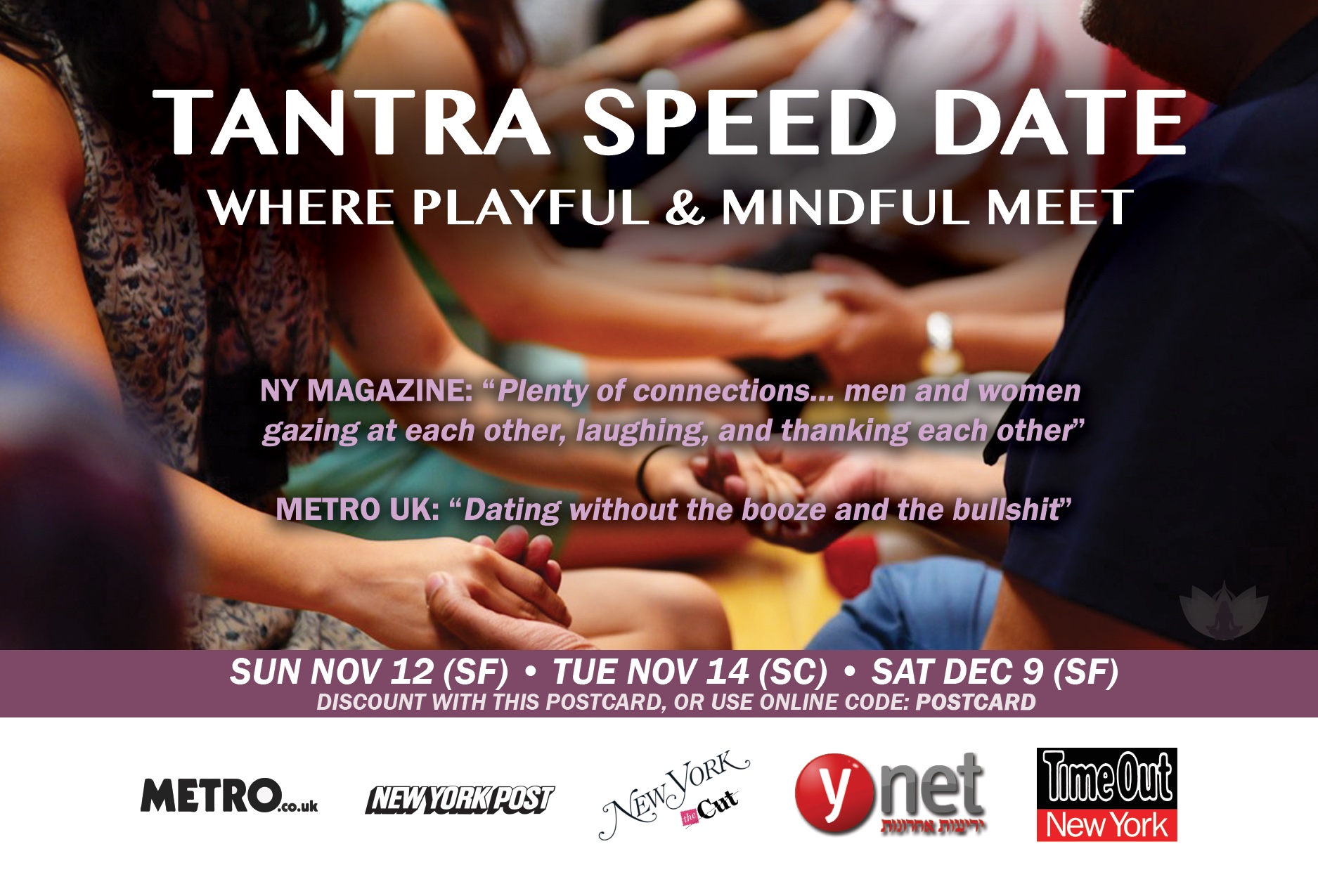 "It's like yoga for your love life!"

*As seen in New York Magazine's "The Cut", Ynet News, Timeout New York, Metro, and others


Tantra Speed Date - Where Playful and Mindful Meet!
Tuesday, November 14, 2017 - 7:00pm
Pacific Cultural Center
1307 Seabright Ave
Santa Cruz, CA, 95062
Learn More: Web link
⭐ NY Magazine's 'The Cut': "I saw plenty of connections being made over the entire two hours —
men and women gazing at each other, laughing, and thanking each other..."
⭐ Metro UK: "An opportunity to meet someone face-to-face in an honest environment without the
endless messaging, game-playing and faux confidence. Dating without the booze and the bullshit."
⭐ "Unquestionably the best dating event I have ever attended. The process supports everyone to open
their hearts and connect in a uniquely deep and profound way. It's transformative." -John N.
Tired of swiping, mindless chit-chat and awkward first dates?

Come to our revolutionary new dating event and see why folks are raving from coast to coast! Meet mindful singles in a fun, awakened setting. Our playful exercises will bring out your best self so you can get to know your dates in the most authentic way.

You'll share a few moments of connection with each date in a traditional Puja circle. Exercises are fun and PG-rated (think communication games, actor's improv, partner yoga, etc.), and of course you choose how you want to participate. After the event, you'll receive your matches.

What Participants are Saying:

"Unlike other events, you will leave feeling you received a great number of gifts even if

you leave without a match. This will change the way you think about relationships for good!"
"Not only did I meet amazing open-hearted people, I experienced genuine healing through the connection exercises. I feel more connected to my femininity and sense of masculinity, and more healed in my relationship with both." -Kasia K.
"It's very healing. You forget that this is a romantic intention. It's soulful." -Michelle L.

Incredible opportunity to fall into my feminine energy in a way I can't usually experience!" -Genevieve R.
"This was excellent! Really want to know how to be this all the time."

"This event helped heal a lot of fear I had about the male figure. Guy ran such beautiful exercises. I felt myself beginning to heal."

"This type of experience should be offered nationwide, to reduce peoples feelings of isolation and loneliness. If people had access to an experience like this on a weekly basis, the world would be a kinder and happier place"





Get your tickets in advance - event is very popular and often sells out: Web link

More info about Tantra Speed Date: Web link

All Tantra Institute Events: Web link